CARES Kids Fly Safe Kinder-Gurtsystem für Flugzeuge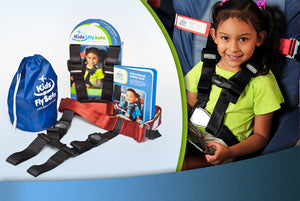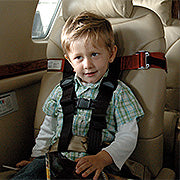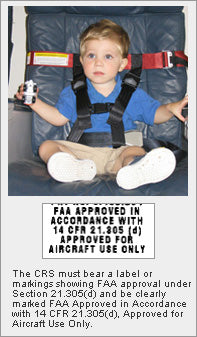 CARES Kids Fly Safe Kinder-Gurtsystem für Flugzeuge
Regular price
Sale price
€125,21
CARES Kids Fly Safe Flugzeuggurt (AmSafe-System)

Ein deutliches Sicherheits-Plus für Dein Kind im Alter zwischen ca. 1 und 4 Jahren, im Gewichtsbereich von ca. 10 bis 20 kg und bis zu einer Körpergröße von ca. 1 m

Die Airlines bieten den Eltern von Kleinkindern und kleinen Kindern leider standardmäßig nur Vorgehensweisen, die erwiesenermaßen die Kinder nicht schützen, sondern großen Gefahren aussetzen. Das sog. Lap-Holding (Kind sitzt auf dem Schoß eines Elternteils) oder der lange verbotene und durch EU-Recht 2008 wieder eingführte Loop-Belt (Schlaufengurt) bieten dem Kind keinen Überlebensraum und auch keine effiziente Rückhaltung. D.h. schon bei Startabbrüchen oder starken Bremsungen bei der Fahrt auf dem Boden und bei Turbulenzen sind die Kinder gefährdet. Eltern sind daher gefordert, selbst für mehr Sicherheit für ihre Kinder zu sorgen.
Für Kinder im Alter von circa ein bis vier Jahre bietet das CARES Kinderrückhaltesystem speziell für die Verwendung im Flugzeug eine praktische und einfache Lösung.
Das von der amerikanischen Luftfahrtbehörde FAA für die ausschließliche Verwendung im Flugzeug zugelassene CARES Gurtsystem bringt die optimale Kombination aus Sicherheit und Komfort bei Installation und Nutzung während des Fluges mit. Dein Kind reist jederzeit sicher: während Start, Flug, Landung und auch der Fahrt des Flugzeugs auf dem Boden. Und auch Dein Flug wird entspannter, wenn Dein Kind nicht in der Quengel- und Kurz-vor-Einschlafen-Phase zwischen Deinem Schoß und dem Flugzeuggang hin- und herturnt, sondern wie im Auto gut gesichert auf seinem Platz sitzt.
Da die Airlines im Umgang mit CARES unterschiedliche Wege gehen (von Empfehlung bis Ablehnung), macht es Sinn, vorher die FAQ zu lesen oder sich mit der Airline in Verbindung zu setzen. Die letzte Entscheidungshoheit, ob das CARES im Flugzeug eingesetzt werden kann, hat das Bordpersonal. Manche Airlines senden auch auf Anfrage eine schriftliche Bestätigung, was natürlich von Vorteil ist. Ihr könnt von uns nach dem Kauf eine ausführliche Praxis-Info erhalten.
Wichtigste Infos zu CARES im Überblick:
Kinderrückhaltesystem zur Kindersicherung in Flugzeugen auf vorwärtsgerichteten Sitzen
Einfache Installation

Das Gewicht des Kindes muss zwischen 10 - 20 kg liegen
Die Körpergröße von einem Meter darf nicht überschritten werden.
Kinder unter 2 Jahren benötigen einen eigenen Sitzplatz, dieser muss meist getrennt gebucht werden.
Geeignet für Rückenlehnen bis ca. 60 cm Breite (in Abhängigkeit von der Stärke der Rückenlehne). Grundsätzlich auf jedem Flugzeugsitz einsetzbar.
Gewicht: ca. 500 g   
Hersteller: AmSafe (Weltgrößter Hersteller von Flugzeuggurtsystemen)
Zertifizierung durch FAA, Freigabe (allgemein oder spezifisch) durch die Luftfahrtbehören von Deutschland, Großbritannien, Kanada, Australien, Neuseeland und diverse weitere.   
FÜR KINDER und Menschen mit BESONDEREN ANFORDERUNGEN geeignet.
Nutzbar im Rahmen der o.g. Maße auf Anfrage bei der Airline
Bei Personen bis 150 cm Körpergröße auf Sonder-Anfrage bei der Airline. Für US-amerikanische Airlines muss einmalig ein sog. exemption letter bei der FAA angefragt werden. Diese Ausnahmegenehmigung ist personenbezogen, die Beantragung dauert 1-2 Monate.
Gero explains the AwareChair
Let the inventor show you the AwareChair personally and explain it to you:
similar products
Customers who viewed this item also saw
How the AwareChair promotes the movement of your hips When developing the AwareChair®, aspects were taken into account that support the natural...
Full details
AwareChair ACTIVE
Regular price €335,29
I love that AwareChair, which I've been using for a few months now. It enables me to work comfortably upright - that brings more joy and ease to desk work. The blue velvety cover not only looks classy, it also feels great to sit on.

Tobias Frank, Thai yoga teacher, bodyworker & author
The awareChair is wonderful. It is a valuable companion to me in my practice and in the office. In this way, I can comfortably be creative in the meditation seat at my desk. Ingenious development!

Petra Feldbinder, holistic body therapies for the balance of body and soul
The AwareChair keeps me awake for it, with mine Attention to return to a consistent posture again and again. He also invites me to exercise and to change the sitting and leg position.

Birgit S. Schachner, Spiritual Coach, Energy, Sound & Body Worker, Author
We chose that ACTIVE & COMFORT Bundle decided and really enjoy changing chairs and the AwareChair in the office, at the desk, at the dining table to use. My morning meditation I really enjoy being on the ACTIVE and it gives me a completely new sitting experience. We clearly recommend the bundle, as we keep changing ourselves. Very clear recommendation for everyone!

Manuel Lutter, founder of a digital agency