Its slightly inclined seat offers a precisely defined and right-angled gluteal bone support.

This causes the hips to roll slightly forwards, which helps you straighten your back and move your upper body upwards.

The dynamically designed wooden frame encourages regular movement with its swinging properties and lets you improve your posture and strengthen your back in a playful way.
Configure your awareChair:

AwareChair ACTIVE
The after outside arched seat shape encourages active sitting even more.
AwareChair COMFORT
The traditional seat shape combines the impulse to get upright with a lot of seating comfort.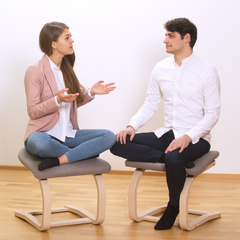 How the AwareChair activates you ...
The AwareChair is a chair without a backrest. At first glance, you might get the idea that it is simply an elevated area for the Sitting cross legged or another stool. But the AwareChair is and does much more than that .... Its slightly inclined seat offers a precisely defined and right-angled buttock support. This causes the hips to roll slightly forward, which helps you straighten your back and move upwards the upper body supports the dynamically designed wooden frame With its vibrating properties, it encourages regular movement and lets you improve your posture and strengthen your back in a playful way. On the AwareChair Sitting in the traditional posture, cross-legged or half-legged, supports you in maintaining or creating more mobility.
Configure now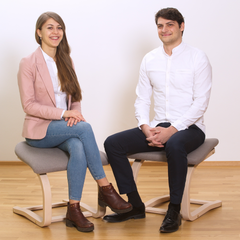 AwareChair - for whom?
The chair for active and conscious sitting - AwareChair - is suitable for all people who live consciously and actively want. This also means paying attention to your own body and posture. If you yourself feel well, have a healthy back and with Enjoy working and want to communicate. You want to be present and attentive as part of a group. The AwareChair supports you in all these aspects in a natural way - while you are on yours writing desk work on Dining table eats at one seminar participate, in one orchestra play or play alone or in a group for one meditation sits down.
Discover AwareChair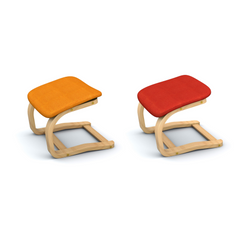 If you don't know which shape suits you better, order both.
Use e.g. the one on writing desk, the other on Dining table. Or the one at home and the others in the office. Or one for you and one for your partner. You may want to switch after a while or you want to take turns. Anyway ... if you have that AwareChair get to know and appreciate them, then you may want to have several in different places where you sit regularly ... But first try one or two. If you have almost never been active and without backrest have been sitting, then it's probably the shape of the seat COMFORT the right one for you to get started with more active sitting to find. If, on the other hand, you've always enjoyed sitting cross-legged or on the floor and enjoying that, then you may find yourself sitting on the floor ACTIVE more that appeals to you this additional gives uplifting and heart-opening impulses ...
Order the AwareChair Set
I love that AwareChair, which I've been using for a few months now. It enables me to work comfortably upright - that brings more joy and ease to desk work. The blue velvety cover not only looks classy, it also feels great to sit on.

Tobias Frank, Thai yoga teacher, bodyworker & author
The awareChair is wonderful. It is a valuable companion to me in my practice and in the office. In this way, I can comfortably be creative in the meditation seat at my desk. Ingenious development!

Petra Feldbinder, holistic body therapies for the balance of body and soul
The AwareChair keeps me awake for it, with mine Attention to return to a consistent posture again and again. He also invites me to exercise and to change the sitting and leg position.

Birgit S. Schachner, Spiritual Coach, Energy, Sound & Body Worker, Author
AwareChair Verwendung
Für Erwachsene und Kinder ab ca. 8 Jahre
Schneidersitz-Stuhl
Der AwareChair ermöglicht das Sitzen im halben Schneidersitz oder im vollen Schneidersitz oder Lotussitz an jedem Tisch mit Standardhöhe. Für Erwachsene und Kinder ab ca. 8 Jahre
Home-Office-Stuhl und Office-Stuhl
Auch im Home-Office oder im Office können Sie bewusst und aufrecht auf dem AwareChair sitzen, arbeiten und kommunizieren. Er unterstützt die Aufrichtung auch bei normaler Sitzhaltung.

Seminar-Stuhl für Achtsamkeit
Eine neue Begegnungsqualität, Zugewandtheit und Präsenz ermöglicht der AwareChair im Seminarkontext. Egal ob Team-Meeting oder Meditationsseminar - die Teilnehmer geben uns eine einhellige Rückmeldung, dass sie sich mit dem AwareChair wacher und aufmerksamer fühlen und auch mehr in Kontakt mit ihren Kolleginnen und Kollegen sind als auf "normalen" Stühlen. Und da man sich bewegen und die Sitzhaltung ändern kann, bleibt die Aktivität auch über einen längeren Zeitraum erhalten - so das Feedback...